Sewage Treatment · Wastewater Treatment Plant
Water polluting is getting worse because of destruction of the natural environment and water ecosystems caused by rapid economic development and industrialization. Therefore, Halla Energy &Environment has developed an advanced wastewater treatment process and built environment friendly underground wastewater treatment plants near new urban areas for the reuse of recycled water.
The characteristics of industrial wastewater can vary according to the substances contained and the production process. So, it is important to perform a field study for an analysis of the pollution source and selection of the most efficient treatment process.
Halla Energy &Environment has extensive references for designing, constructing and operating wastewater treatment plants in the areas of pulp materials for Industrial waste water, waste water from incineration, leachate from landfills, livestock manure.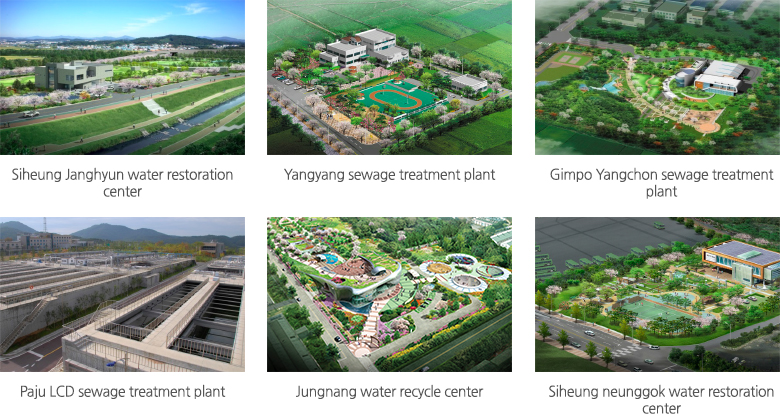 Projects
| No. | Project Name | Client | Size/specification | Note |
| --- | --- | --- | --- | --- |
| 1 | Siheung Janghyun water restoration center | Korea Land and Housing Corporation | Capacity 16,000㎡/day | Under construction |
| 2 | No.4 industrial complex of sewage treatment(Phase 3) in Anseong | Gyeonggi Urban Innovation Corporation | Capacity 6,000㎡/day | Under construction |
| 3 | Advanced wastewater treatment of Jungnang water recycle center | Seoul Metropolitan Office of Urban Infrastructure Division | Capacity 250,000㎡/day | Under construction |
| 4 | Paju LCD sewage treatment plant | Korea Environment Corporation | Capacity 50,000㎥/day | Under construction |
| 5 | Modernization and park projects of environmental infrastructure in Hanam | Korea Environment Corporation | Capacity 32,000㎥/day | Under construction |
| 6 | Water restoration ccenter of Jeonnam reform city in Gwangju | Korea Land and Housing Corporation | Capacity 19,000㎥/day | Under construction |
| 7 | Hwaseong hyangnam 2 water restoration center | Korea Land and Housing Corporation | Capacity 17,000㎥/day | Under construction |
| 8 | Additional construction for Paengseong public sewage treatment facility | Water supply office of Pyeongtae City | Capacity 14,200㎥/day | 2014년 |
| 9 | Cheongsan industrial complex of sewage treatment plant in Yeoncheon | Korea Environment Corporation | Capacity 19,000㎥/day | 2013년 |
| 10 | Advance wastewater treatment of Nanji water recycle center | Seoul Metropolitan Office of Urban Infrastructure Division | Capacity 860,000㎥/day | 2013년 |
| 11 | Advance wastewater treatment of Tancheon water recycle center | Seoul Metropolitan Office of Urban Infrastructure Division | Capacity 900,000㎥/day | 2013년 |
| 12 | Seongseo and Darseoung 2nd industrial complex of sewage treatment plant | Korea Environment Corporation | Capacity 60,000㎥/day | 2013년 |
Automated Water Purification Process / Riverbed Filtration & Seawater Intake System
Halla Energy &Environment is the first company in Korea that receives from the Ministry of the Environment the New Environmental Technology (ENVI-SYS) certification for its improved automated water purification efficiency method. With this technology, we are focusing on improving and retrofitting old and new water purification plants. The riverbed filtration process extracts water from the vertical well from the river shoreline. The vertical well connects with horizontal (lateral) screen pipes that are the intake screens for filtrated river water through the riverbed aquifer layer. This process secures an indirect water intake source and helps to improve river water quality as well as to insure river water is maintenance.
The seawater intake system indirectly intakes seawater that is naturally filtrated through the sand layer of the sea. Halla Energy &Environment has developed a beach-well methodwith high efficiency in terms of operation and management that has simplified the pre-treatment process and reduces construction and maintenance costs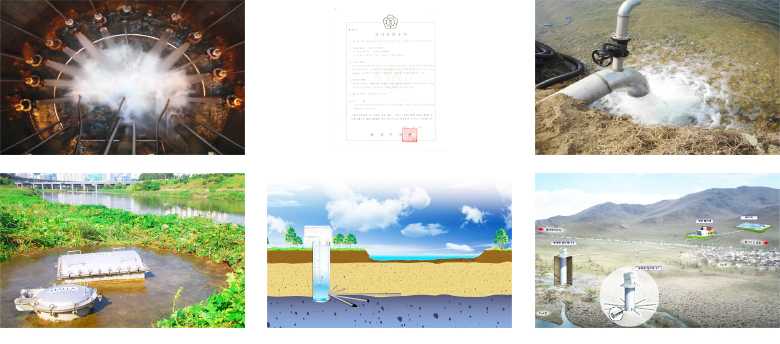 Benefits of Riverbed Filtration

Projects
| No. | Project Name | Client | Size/specification | Note |
| --- | --- | --- | --- | --- |
| 1 | Water supply in Oulan Bator, Mongolia | Korea International Cooperation Agency | Unit: 2 Horizontal collector well of riverbed filtration Capacity: 10,000㎡/day | Completed in 2014 |
| 2 | Under development of riverbank filtrate, construction for horizontal Collector well in Gimhae | Daewoo Engineering & Construction Co., Ltd | Length: 3,000m, Capacity: 180,000㎥/day | Completed in 2013 |
| 3 | Under Godeokcheon ecological river improvement, construction for riverbed filtration facility | Sanglee Construction | Length: 400m, Capacity: 10,000㎥/day | Completed in 2012 |
| 4 | Mochyuncheon ecological restoration | Yuaneji Construction | Length: 400m, 9,300㎥/day | Completed in 2012 |
| 5 | Namcheon purification of eco-river and wastewater reuse ­ riverbank filtrate(boring) | Seungwoo Construction | Length: 2,660m, Capacity: 70,000㎥/day | Completed in 2011 |
| 6 | Under horizontal digging a well, Taehwagang drying stream of hydroecological restoration | Seungwoo Construction | Length: 800m, Capacity: 20,000㎥/day | Completed in 2011 |